Since our last long-term update in October 2017, the EUR/USD market has been moving reliably and precisely as expected.
This new long-term update walks through the recent developments and updates the expected targets of the new movement.
Weekly Main Count
– Invalidation Point: 1.2555
– Confirmation Point: –
– Downwards Target: 0.9024
– Wave number: Primary C
– Wave structure: Motive
– Wave pattern: Impulse
Please click on the charts below to enlarge.
Main Monthly Wave Count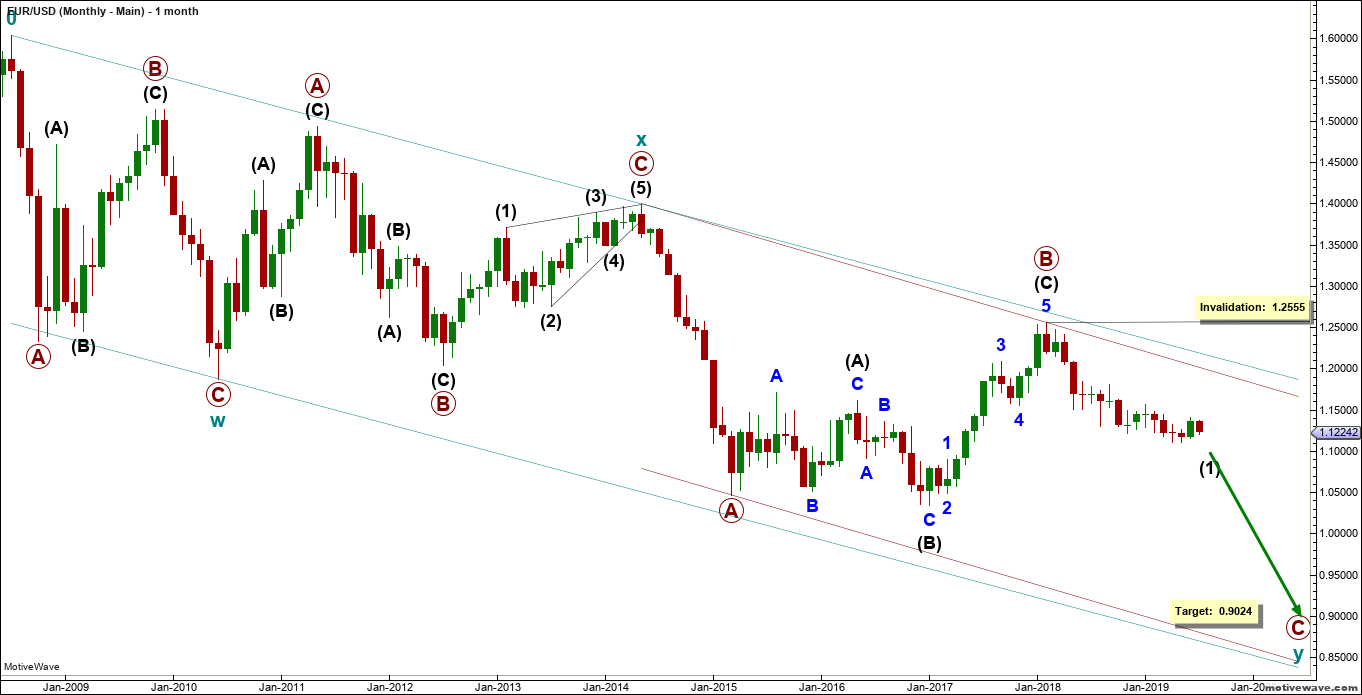 The bigger picture sees that the euro is moving generally toward the downside in a combination labeled teal waves w, x and y.
Teal wave w formed a flat labeled maroon waves A, B and C.
Teal wave x formed a running flat labeled maroon waves A, B and C. It retraced exactly 50% of teal wave w.
Teal wave y is now forming a zigzag labeled maroon waves A, B and C.
Maroon wave A formed a strong impulse of over 3500 pips. It ended in March 2015.
Maroon wave B formed an expanded flat labeled black waves A, B and C. It retraced almost exactly 61.8% of maroon wave A.
Maroon wave C is forming an impulse labeled black waves (1) through (v).
This wave count expects the euro to continue moving toward the downside in maroon wave C.
At 0.9024 maroon wave C would reach 100% the length of maroon wave A.
This wave count would be invalidated by movement above 1.2555 as black wave (2) may not move beyond the start of black wave (1).