As expected the euro moved toward the upside, reached both of our targets, and exceeded the second target by 5 pips so far.
A quick study of the last daily candlestick reveals a long upper shadow on higher volume than the previous candlestick, which actually had a longer range. This is the characteristic technical picture of a blow-off.
These readings, in a position where I was already expecting the rally to reach its targets, provide good supporting evidence that a temporary correction may have now begun.
Synopsis: As price moves below 1.1662, the euro will likely continue downwards to reach between 1.1517 and 1.1466 at the very least, while it remains ideally below 1.1733.
Hourly Main Count
– Invalidation Point: 1.1733 (Resistance)
– Confirmation Point: 1.1662
– Downward Target: 1.1517 – 1.1466
– Wave number: Minor B
– Wave structure: Corrective
– Wave pattern: Zigzag, Flat, Triangle, or Combination
Elliott Wave chart analysis for the EURUSD for 28th August, 2018. Please click on the charts below to enlarge.
Main Daily Wave Count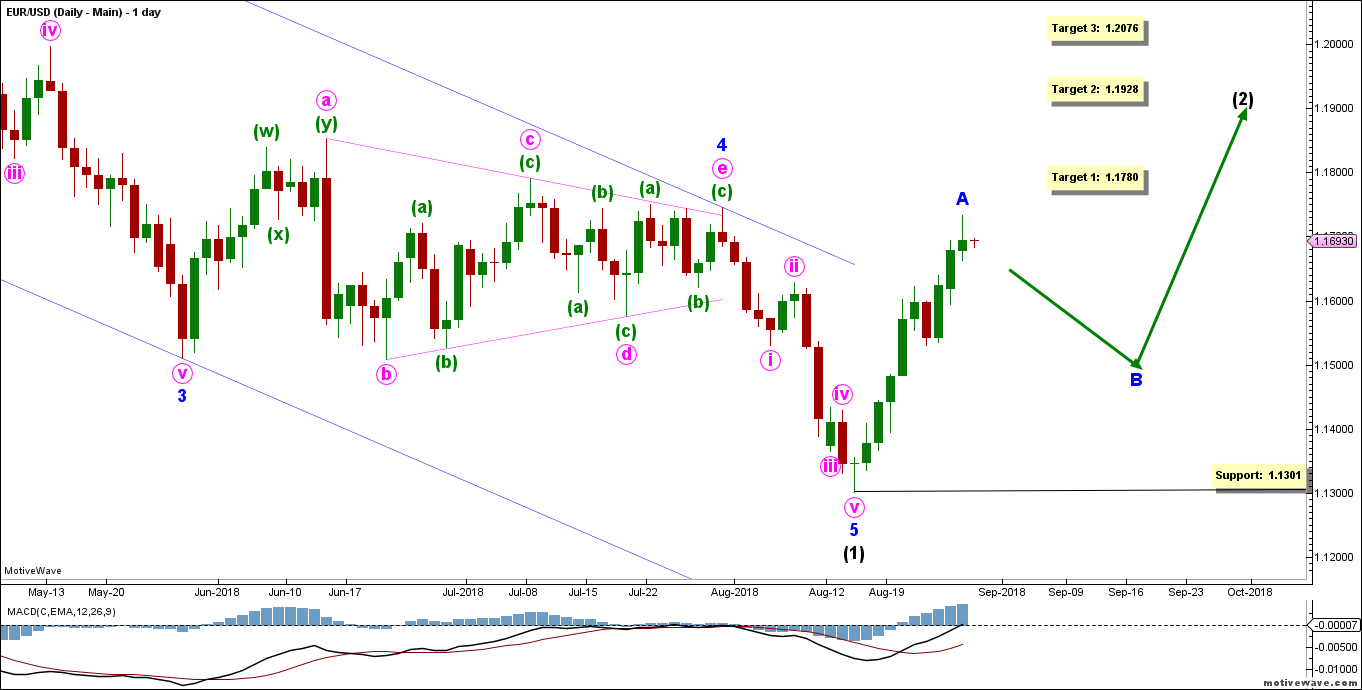 This main daily count sees that the euro completed maroon wave B and is now moving in a new downtrend in maroon wave C.
Maroon wave C is forming an impulse labeled black waves (1) to (5).
Black wave (1) formed an impulse labeled blue waves 1 to 5.
This count sees that black wave (1) is complete and expects the euro to move toward the upside in black wave (2). This has been almost fully confirmed by movement above 1.1628, and it will be completely confirmed by movement above 1.1748.
At 1.1780 black wave (2) would retrace 38.2% of black wave (1), at 1.1928 it would retrace 50% of its length, then at 1.2076 it would retrace 61.8% of its length.
This wave count is invalidated by movement above 1.2555 as black wave (2) may not move beyond the start of black wave (1).
Main Hourly Wave Count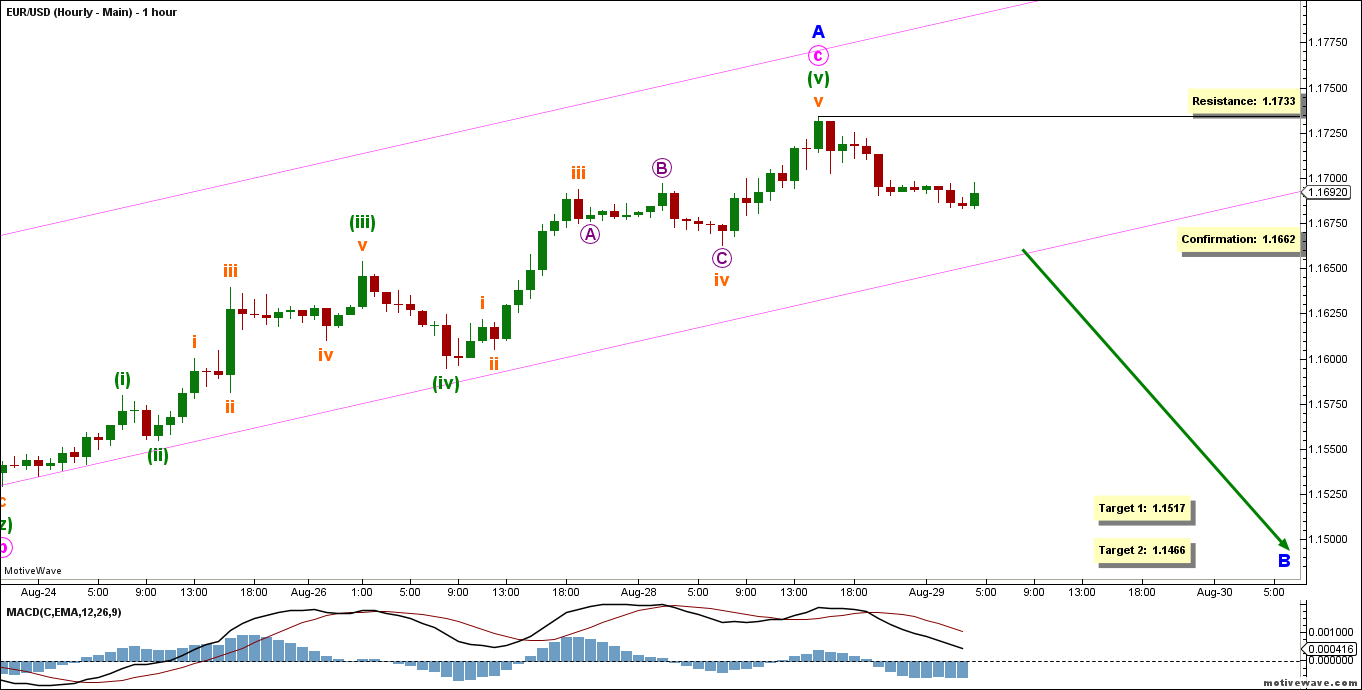 This count sees that black wave (2) is likely unfolding as a flat labeled blue waves A, B and C.
Blue wave A formed a zigzag labeled pink waves a, b and c, which is quite possibly complete.
Pink wave c formed an impulse labeled green waves (i) through (v). It reached 61.8% the length of pink wave a.
Green wave (v) formed another extension labeled orange waves i through v. It reached just over 100% the length of both green waves (i) and (iii).
The MACD shows a very minor bearish divergence between green waves (iii) and (v).
This count expects the euro to start moving toward the downside in blue wave B. This will be initially confirmed by movement below 1.1662.
At 1.1517 blue wave B would retrace 50% of blue wave A, then at 1.1466 it would retrace 61.8% of its length.
The euro should find resistance below 1.1733.