[Tamer]
As expected the cable moved toward the downside, reached its first target, and exceeded it by 8 pips.
The hourly chart has been showing consistent and increasing bullish divergence over the entire week, and this coincides with what looks like the completion of a 5-wave decline. I'm still waiting for price confirmation, but I'm starting to think the sideways/downward correction that started in October 2017 may have come to an end.
I don't want to call a bottom prematurely, so the daily chart covers the possibility that this correction will continue to move lower. The hourly chart, on the other hand, assumes a new uptrend is upon us.
Synopsis: By moving above 1.3949 and then 1.3997, the cable is likely to continue moving upward to at least 1.4377, while it remains above 1.3895.
Main Hourly Count
– Invalidation Point: 1.3895
– Confirmation Point: 1.3949 – 1.3997
– Upwards Target: 1.4377
– Wave number: Minute c
– Wave structure: Motive
– Wave pattern: Impulse or Ending Diagonal
Elliott Wave chart analysis for the GBPUSD for 25th April, 2018. Please click on the charts below to enlarge.
Main Daily Wave Count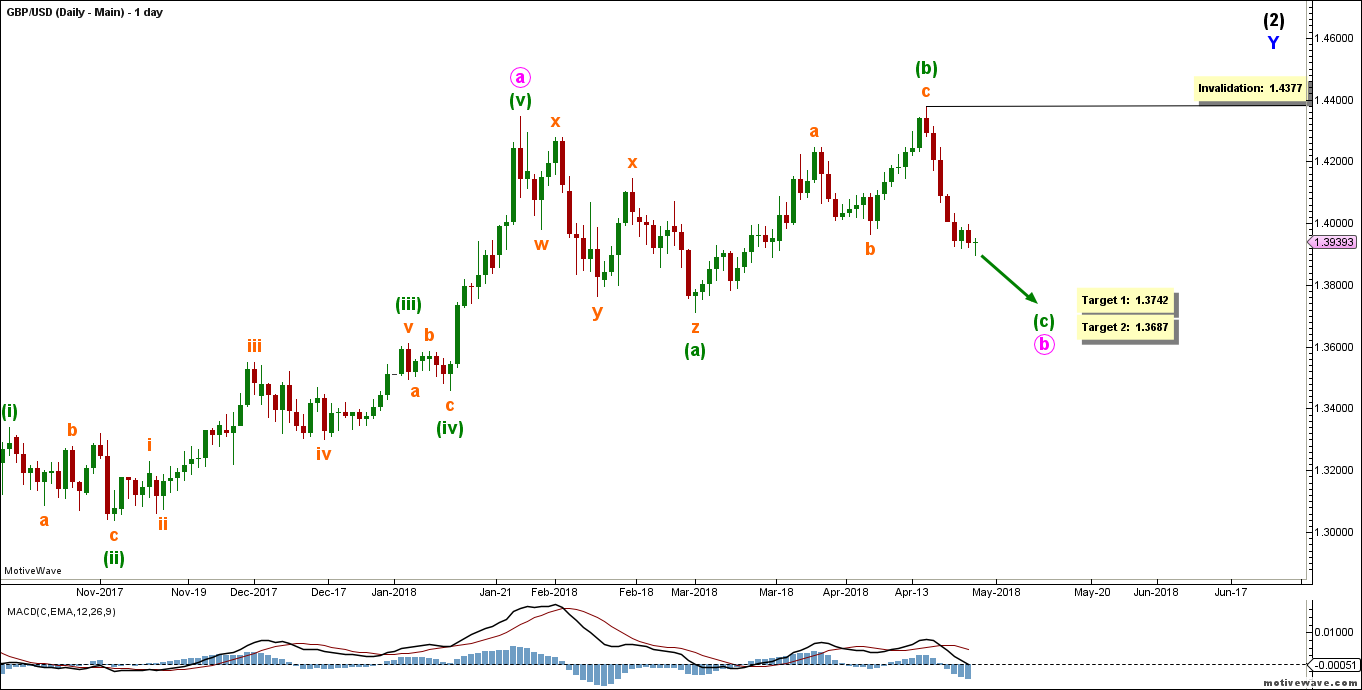 For the long term, this count expects that primary wave B maroon is complete and that primary wave C maroon is unfolding towards the downside.
Within wave C maroon intermediate wave (1) black is complete and intermediate wave (2) black is likely in its late stages.
Wave (2) black is unfolding as a double zigzag labeled waves W, X and Y blue.
Wave W blue unfolded as a zigzag labeled waves a, b and c pink with wave c pink unfolding as an impulse labeled waves (i) through (v) green.
Within wave Y blue, wave a pink is complete.
Wave b pink seems very likely to be forming an expanded/running flat labeled waves (a), (b) and (c) green.
Wave (a) green formed a triple combination labeled waves w, y and z orange.
Wave (b) green formed a zigzag labeled waves a, b and c orange.
This count expects the cable to be moving toward the downside in wave (c) green to complete wave b pink.
At 1.3742 wave (c) green would reach 100% the length of wave (a) green, then at 1.3687 wave b pink would retrace 50% of wave a pink.
This count would be invalidated by movement above 1.4377.
Main Hourly Wave Count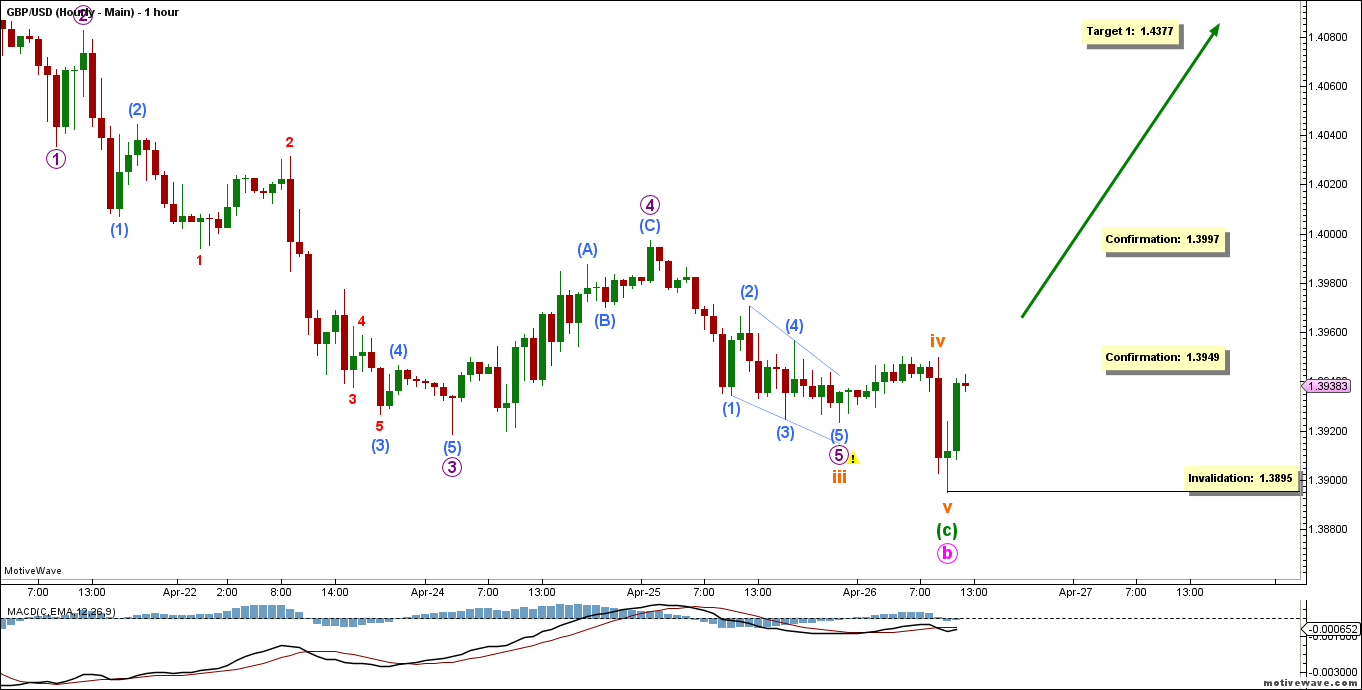 The main count suggests that wave (c) green completed an impulse labeled waves i to v orange.
The MACD lines have been showing remarkable bullish divergence with price. They have been steadily moving up, and forming higher highs and higher lows, since the beginning of this hourly chart.
I'm very tempted to say that green wave (c) and, therefore, pink wave b are now complete. This will be very initially confirmed by movement above 1.3949, and it will be largely confirmed by movement above 1.3997.
This count expects the cable to move toward the upside in pink wave c.
At 1.4377 pink wave c would reach the extreme high of pink wave b.
Once price reaches our confirmation points, but not a moment before that, this wave count would be invalidated by movement 3895.