Hey guys, still Tamer here.
Yesterday I had assumed that the cable would slow down and retrace a bit of its savage decline before continuing lower, but it looks like the support wasn't there just yet.
Here, much like in the euro, this decline looks just too impulsive to be viewed as merely the first leg of a zigzag. That possibility is still on the table, but I'd like to present a similar, hopefully more fitting possibility. Of course, Nady will have to review and approve it once he comes back, but I do think it has some merit.
Synopsis: Cable should find resistance between 1.3976 and 1.4012, possibly even at 1.4070.
Main Hourly Count
– Invalidation Point: 1.4282
– Confirmation Point: 1.3954
– Upwards Target: 1.3976 — 1.4012 — 1.4070
– Wave number: 4 orange
– Wave structure: Corrective
– Wave pattern: Zigzag, Flat, Triangle, or Combination
Elliott Wave chart analysis for the GBPUSD for 23rd April, 2018. Please click on the charts below to enlarge.
Main Weekly Wave Count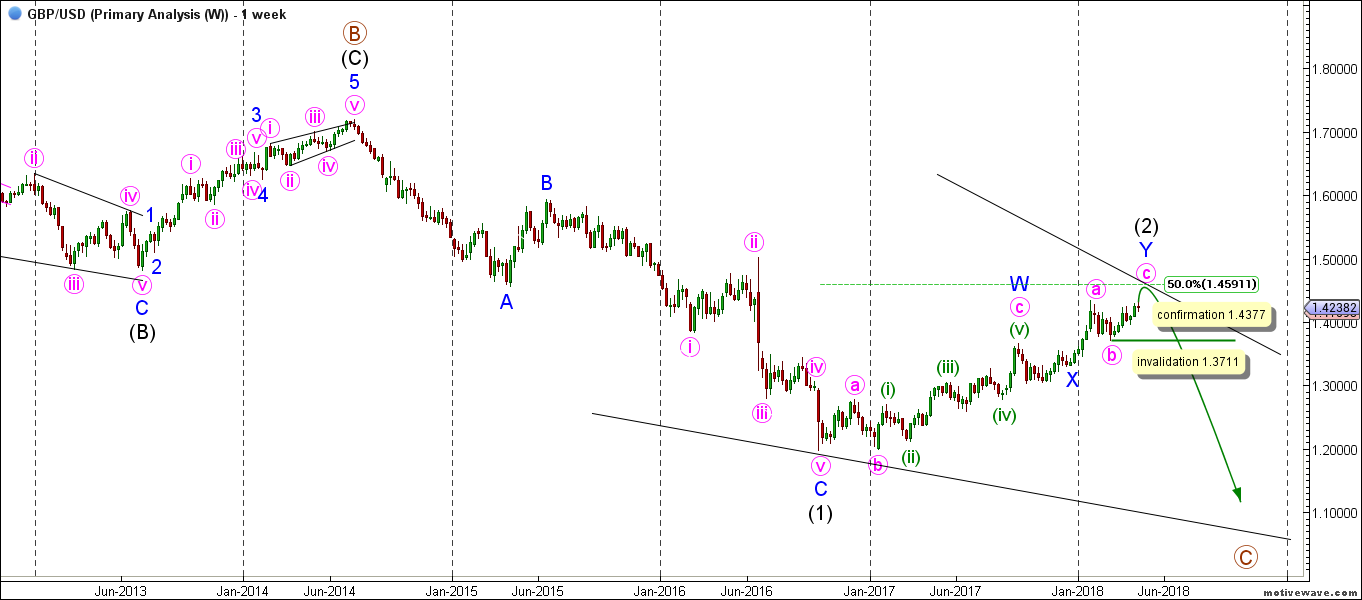 Main Daily Wave Count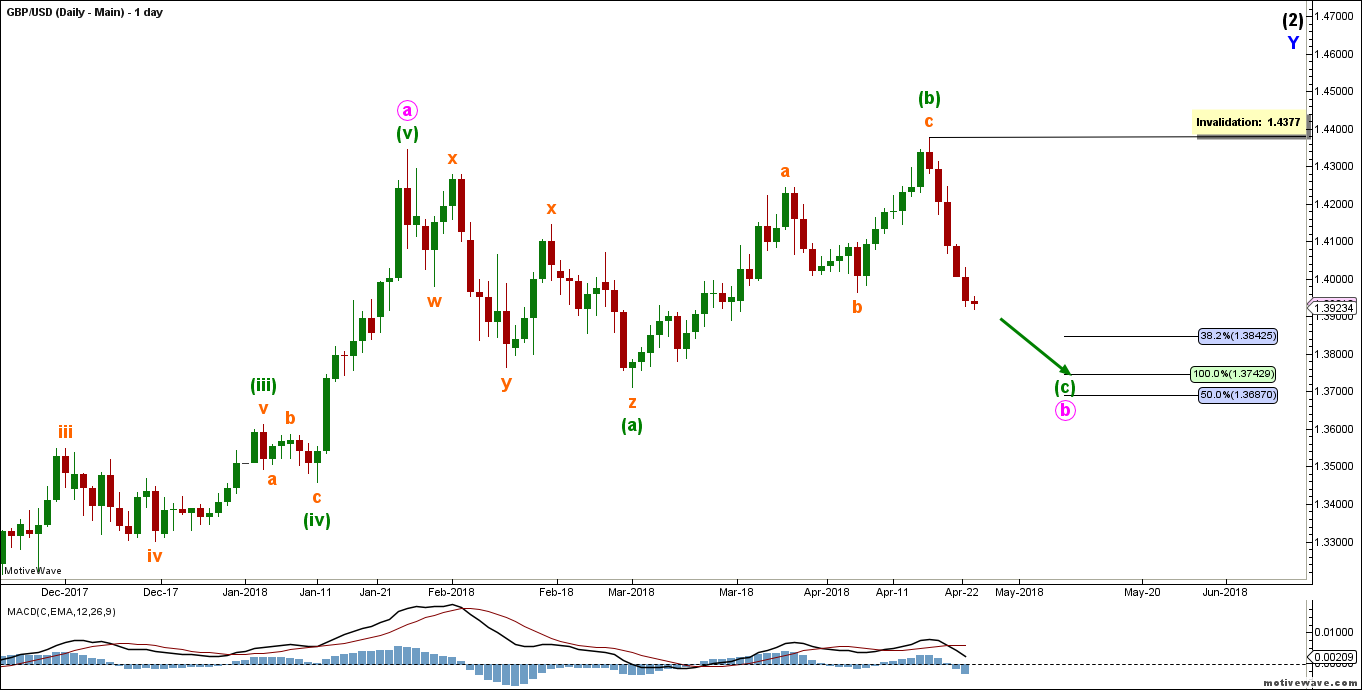 For the long term, this count expects that primary wave B maroon is complete and that primary wave C maroon is unfolding towards the downside.
Within wave C maroon intermediate wave (1) black is complete and intermediate wave (2) black is likely in its late stages.
Wave (2) black is unfolding as a double zigzag labeled waves W, X and Y blue.
Wave W blue unfolded as a zigzag labeled waves a, b and c pink with wave c pink unfolding as an impulse labeled waves (i) through (v) green.
Within wave Y blue, wave a pink is complete.
Wave b pink seems very likely to be forming an expanded/running flat labeled waves (a), (b) and (c) green.
Wave (a) green formed a triple combination labeled waves w, y and z orange.
Wave (b) green formed a zigzag labeled waves a, b and c orange.
This count expects the cable to be moving toward the downside in wave (c) green to complete wave b pink.
At 1.3842 wave b pink would retrace 38.2% of wave a pink, then at 1.3687 it would retrace 50% of its length. In the middle, around 1.3742, wave (c) green would reach 100% the length of wave (a) green.
This count would be invalidated by movement above 1.4377.
Main Hourly Wave Count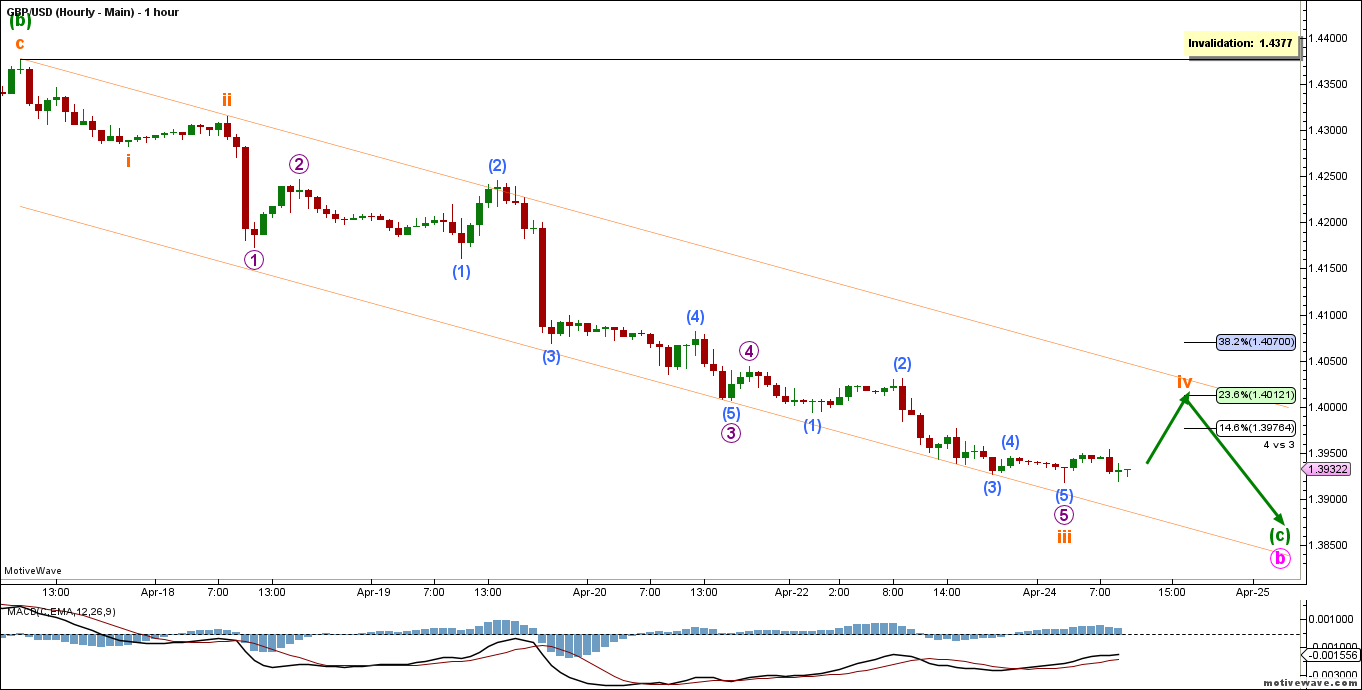 The main count suggests that wave (c) green is forming an impulse labeled waves i to v orange.
Wave iii orange formed an extension labeled waves 1 to 5 violet. It reached exactly 423.6% the length of wave i orange.
The MACD histogram shows a clear divergence between waves 5 and 3 violet, which supports the view that wave 5 violet and, therefore, wave iii orange are now complete.
This count expects the euro to start moving sideways to upward in wave iv orange. This will be confirmed by movement above 1.3954.
At 1.3976 wave 4 orange would retrace 14.6% of wave iii orange, then at 1.4012 it would retrace 23.6% of its length, then at 1.4070 it would retrace 38.2% of its length.
This wave count is invalidated by movement above 1.4282 as wave iv orange of this impulse may not enter the price territory of wave i orange.