As expected the euro moved towards the upside, reached our first target, and came only 29 pips short of reaching our second target at 1.2099.
From there, also as expected, price immediately dropped about 125 pips, wiping our the entire gains of the day, and most probably signalling the end of the medium-term uptrend.
All the momentum indicators I follow are showing a massive bearish divergence, despite the clear price increase. This coincides with the wave pattern seemingly coming to completion at several degrees of trend. Moreover, the daily chart is showing an impressive bearish doji, at a position very close to the upper trend line of the channel drawn around the entire uptrend since April.
I don't want to jump the gun prematurely, but we now have a very significant amount of evidence to indicate that the third wave rally is now complete. My current working view is that the market has begun a fourth wave correction. If this is correct, it's still way too early to guess what pattern this correction will form, so I'll assume the simplest case of a zigzag for now.
In terms of targets, again, it's still too early to formulate objective targets based on the wave pattern, so I'll place a temporary target based on previous support levels for now.
Synopsis: EUR/USD is expected to move towards the downside to find support around 1.1917, while it remains below 1.2070.
Hourly Main Count
– Invalidation Point: 1.2070
– Confirmation Point: 1.1946
– Downwards Target: 1.1917
– Wave number: Minuette (i)
– Wave structure: Motive
– Wave pattern: Impulse
Elliott Wave chart analysis for the EURUSD for 29th August, 2017. Please click on the charts below to enlarge.
Main Daily Wave Count
The bigger picture sees that the euro is moving sideways in maroon wave B, which is forming a flat labeled black waves (A), (B) and (C).
Black wave (C) is forming an impulse labeled blue waves 1 through 5.
Blue wave 3 formed an impulse labeled pink waves i through v.
Pink wave v formed an impulse labeled green waves (i) through (v).
Green wave (v) reached exactly 38.2% the length of green waves (i) and (iii), and it's within only 29 pips of reaching 100% the length of green wave (i). It's most likely complete.
This count expects the euro to move largely towards the downside in blue wave 4, which may be forming a zigzag labeled pink waves a, b and c.
At 1.1698 blue wave 4 would retrace 23.6% of blue wave 3, then at 1.468 it would retrace 38.2% of its length.
This wave count is invalidated by movement below 1.0829 as blue wave 4 of this impulse may not enter the price territory of blue wave 1. If blue wave 4 is indeed a zigzag, then this wave count is also invalidated by movement above 1.2070 as pink wave b may not move beyond the start of pink wave a.
Main Hourly Wave Count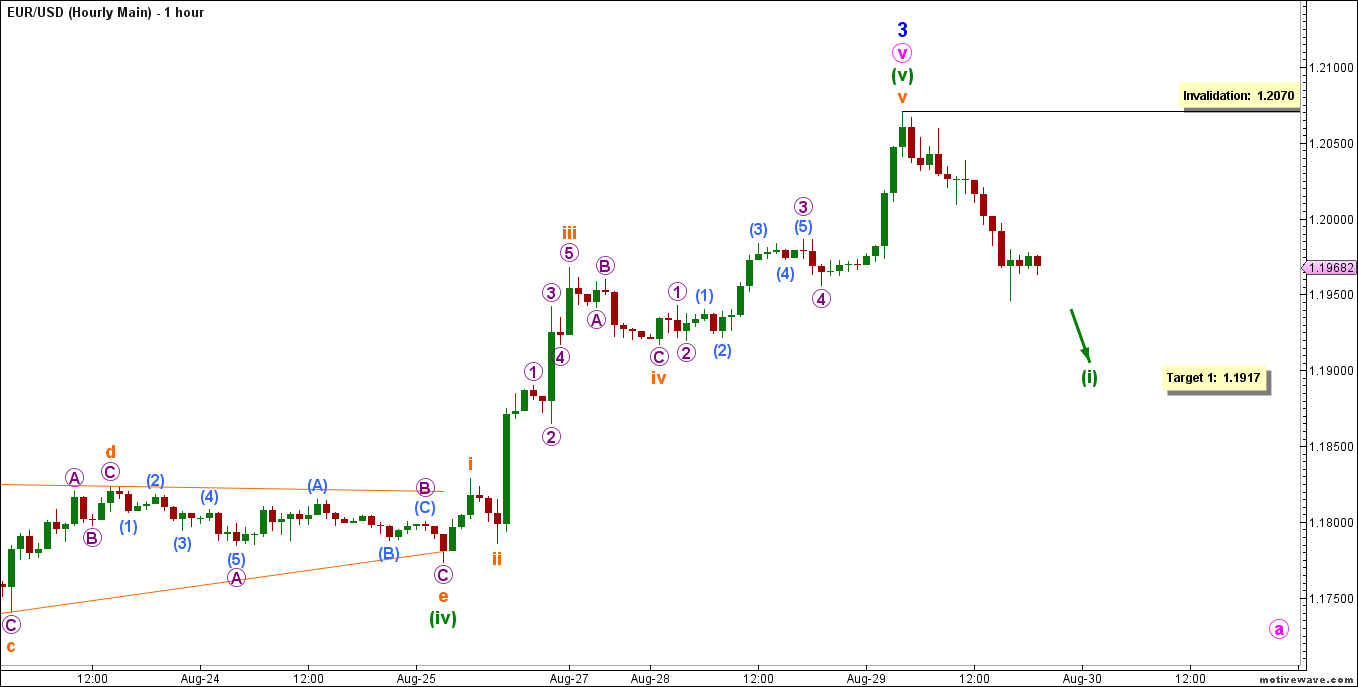 This main hourly count sees that pink wave a is likely forming an impulse labeled green waves (i) through (v).
This count expects the euro to continue moving towards the downside in green wave (i). This will be largely confirmed by movement below 1.1946.
At 1.1917 green wave (i) would reach the previous low of orange wave iv (of green wave (v) of pink wave v of blue wave 3).
This wave count is invalidated by movement above 1.2070 as green wave (ii) may not move beyond the start of green wave (i).