As expected the euro moved towards the upside, reached our first target, exceeded it by 15 pips, and immediately reversed towards the downside to wipe out most of its advance.
There are several reasons to expect the current phase of the uptrend to be over, but it's unwise to jump to such a conclusion without sufficient confirmation. Therefore, the daily count keeps its focus on the targets of the uptrend, whereas the hourly count zooms in to finer details.
Synopsis: By moving below 1.1626, EUR/USD is expected to move towards the downside for a few to several days to find support between 1.1581 and 1.1541, while it remains ideally (but not necessarily) below 1.1712.
Hourly Main Count
– Invalidation Point: 1.1712
– Confirmation Point: 1.1626
– Downwards Target: 1.1581 – 1.1541
– Wave number: Minute iv
– Wave structure: Corrective
– Wave pattern: Zigzag, Flat, or Triangle
Elliott Wave chart analysis for the EURUSD for 25th July, 2017. Please click on the charts below to enlarge.
Main Daily Wave Count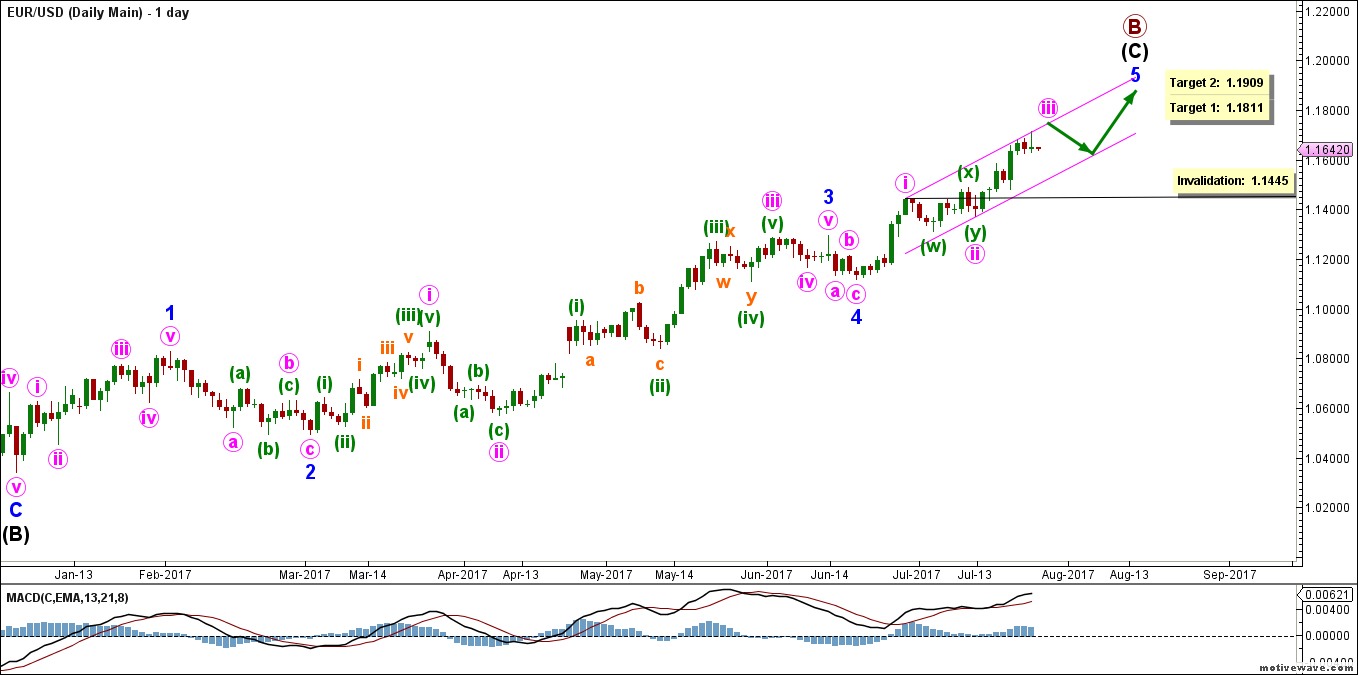 The bigger picture sees that the euro is moving sideways in maroon wave B, which is forming a flat labeled black waves (A), (B) and (C).
Black wave (C) is forming an impulse labeled blue waves 1 through 5.
Blue wave 5 is forming an impulse labeled pink waves i through v.
This count expects the euro to continue moving towards the upside in blue wave 5.
At 1.1811 maroon wave B would retrace 38.2% of maroon wave A, then at 1.1909 blue wave 5 would reach 161.8% the length of blue wave 1.
This wave count is invalidated by movement below 1.1445 as pink wave iv of this impulse may not enter the price territory of pink wave i.
Main Hourly Wave Count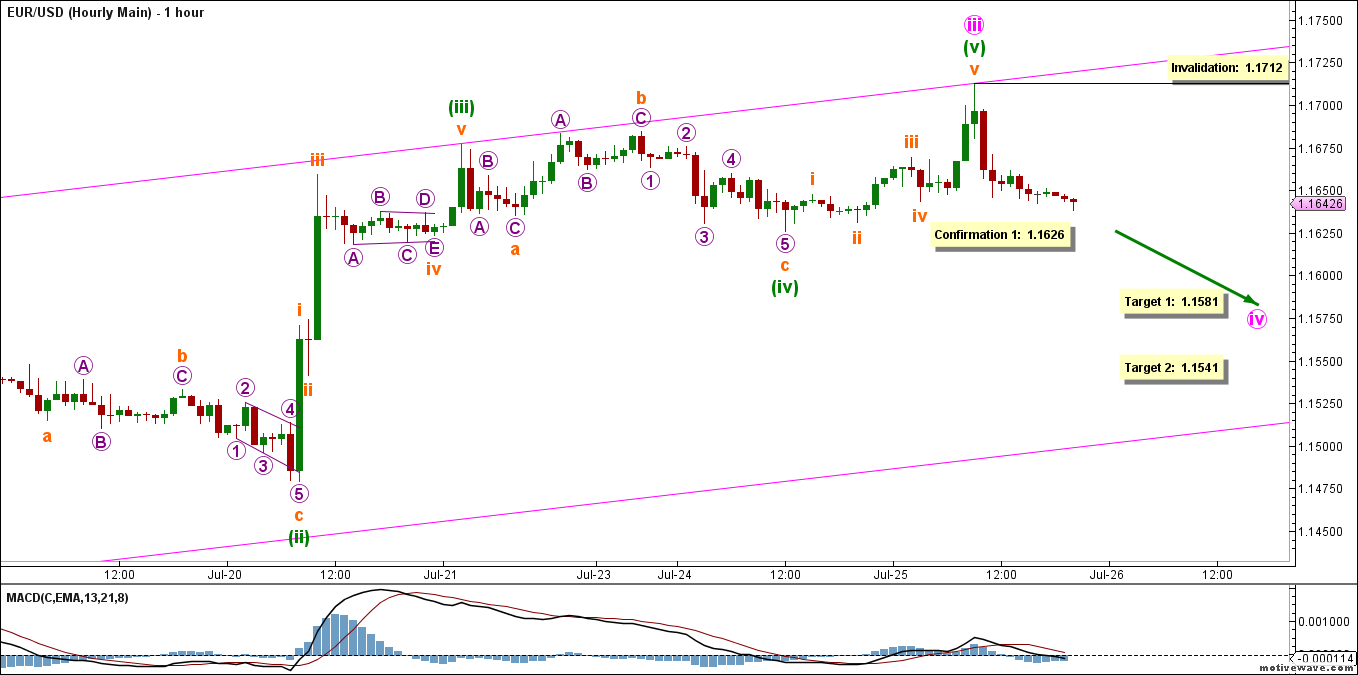 This main hourly count sees that pink wave iii completed an impulse labeled green waves (i) through (v).
Green wave (iii) formed an impulse labeled orange waves i through v. It was actually shorter than green wave (i), which means that green wave (v) must be shorter than green wave (iii).
Green wave (iv) formed an expanded flat labeled orange waves a, b and c. It retraced 23.6% of green wave (iii), exhibited alternation with green wave (ii).
Green wave (v) formed an expanding ending diagonal labeled orange waves i through v. The only Fibonacci relationship it exhibits within its parent impulse is that it's related to the length of green wave (iv) by 161.8%.
This count expects the euro to start moving towards the downside in pink wave iv. This will be tentatively confirmed by movement below 1.1626.
The MACD shows a bearish divergence between the ends of green waves (v) and (iii). This is the typical momentum signature for these two wave positions.
At 1.1581 pink wave iv would retrace 38.2% of pink wave iii, then at 1.1541 it would retrace 50% of its length.
This wave is has no hard invalidation point as pink wave iv may form a new "false" high if it unfolds as an expanded or running correction. If it doesn't, however, then price should not move above 1.1712.