As expected in our last weekly analysis, the euro moved towards the downside in what looks like a clear 5-wave impulse, confirming our view that the trend has changed and is heading south for several more weeks.
We're updating our counts to reflect the most recent price action and to present tighter targets and invalidation points.
Weekly Main Count
– Invalidation Point: 1.1718
– Confirmation Point: 1.1017
– Downwards Target: 1.0462 – 1.0220
– Wave number: Intermediate (5)
– Wave structure: Motive
– Wave pattern: Impulse
Please click on the charts below to enlarge.
Main Weekly Wave Count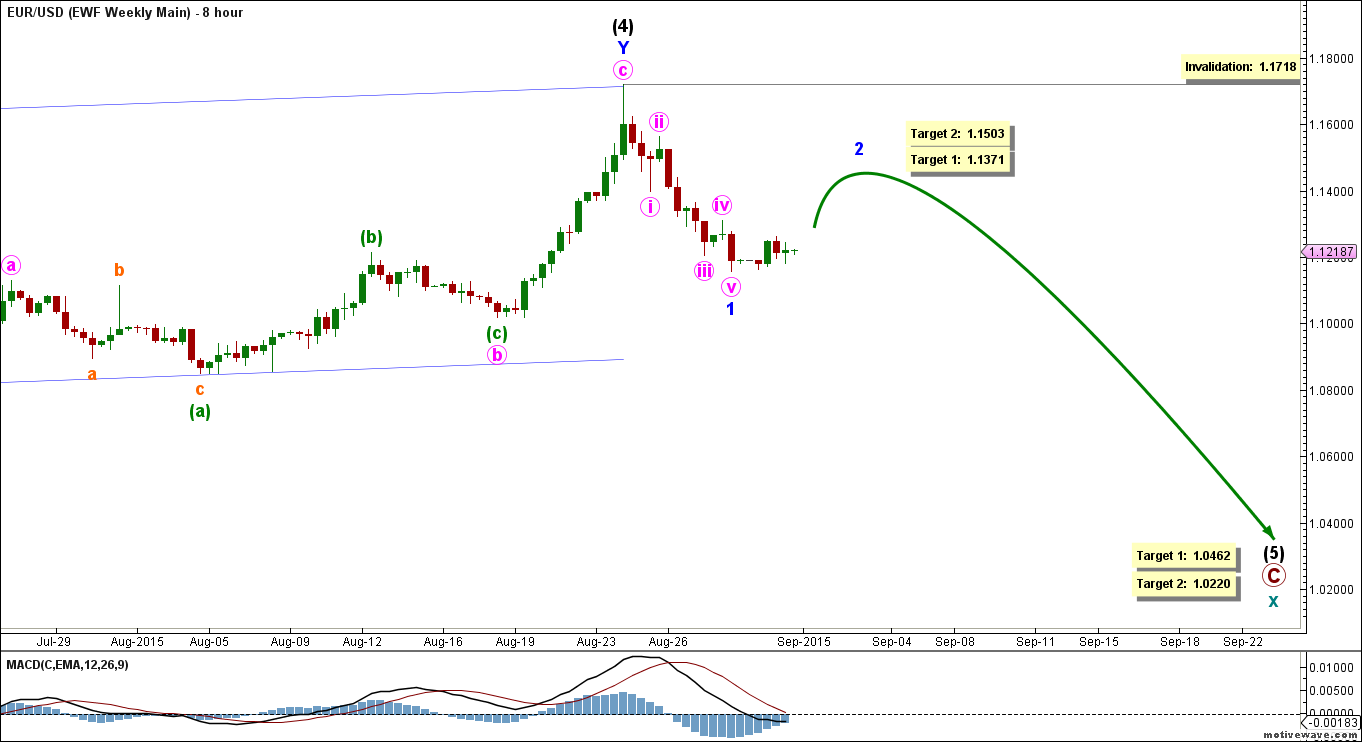 The bigger picture sees that the euro is still moving towards the downside in primary wave C, which is forming an impulse labeled intermediate waves (1) through (5).
Intermediate wave (4) formed a double combination labeled minor waves W, X and Y.
Within it, minor wave Y formed a zigzag labeled minute waves a, b and c.
Within it, minute wave b formed a running flat labeled minuette waves (a), (b) and (c), retracing almost 38.2% of minute wave a.
Minute wave c reached twice the length of minute wave a, and touched the upper trend line of the channel drawn around minor waves W, X and Y.
This count expects the euro to be moving towards the downside in intermediate wave (5), which is most likely forming an impulse labeled minor waves 1 through 5, to complete primary wave C of cycle wave x. This will be confirmed by movement below 1.1017.
At 1.0462 intermediate wave (5) would reach the end of intermediate wave (3), then at 1.0220 it would reach 61.8% the length of intermediate wave (3).
But before the downtrend is in full force, price should move towards the upside in minor wave 2. At 1.1371 minor wave 2 would retrace 38.2% of minor wave 1, then at 1.1503 it would retrace 61.8% of its length.
This wave count is invalidated by movement above 1.1718 as minor wave 2 may not move beyond the start of minor wave 1.