After nearly one whole year of uninterrupted decline, the euro has just had its first month of recovery, rallying for about 750 pips, and forming what almost looks like a bullish engulfing pattern.
There are several reasons to suspect that this rally is the start of a new uptrend, one that should last for months, if not years.
We're updating our counts to reflect the most recent price action and to present tighter targets and invalidation points.
Hourly Main Count
– Invalidation Point: 1.0462
– Confirmation Point: 1.3993
– Upward Target: 1.5286 – 1.8267
– Wave number: Cycle y
– Wave structure: Corrective
– Wave pattern: Zigzag or Flat
Elliott Wave monthly chart analysis for the EURUSD for 1st May, 2015. Please click on the charts below to enlarge.
Main Monthly Wave Count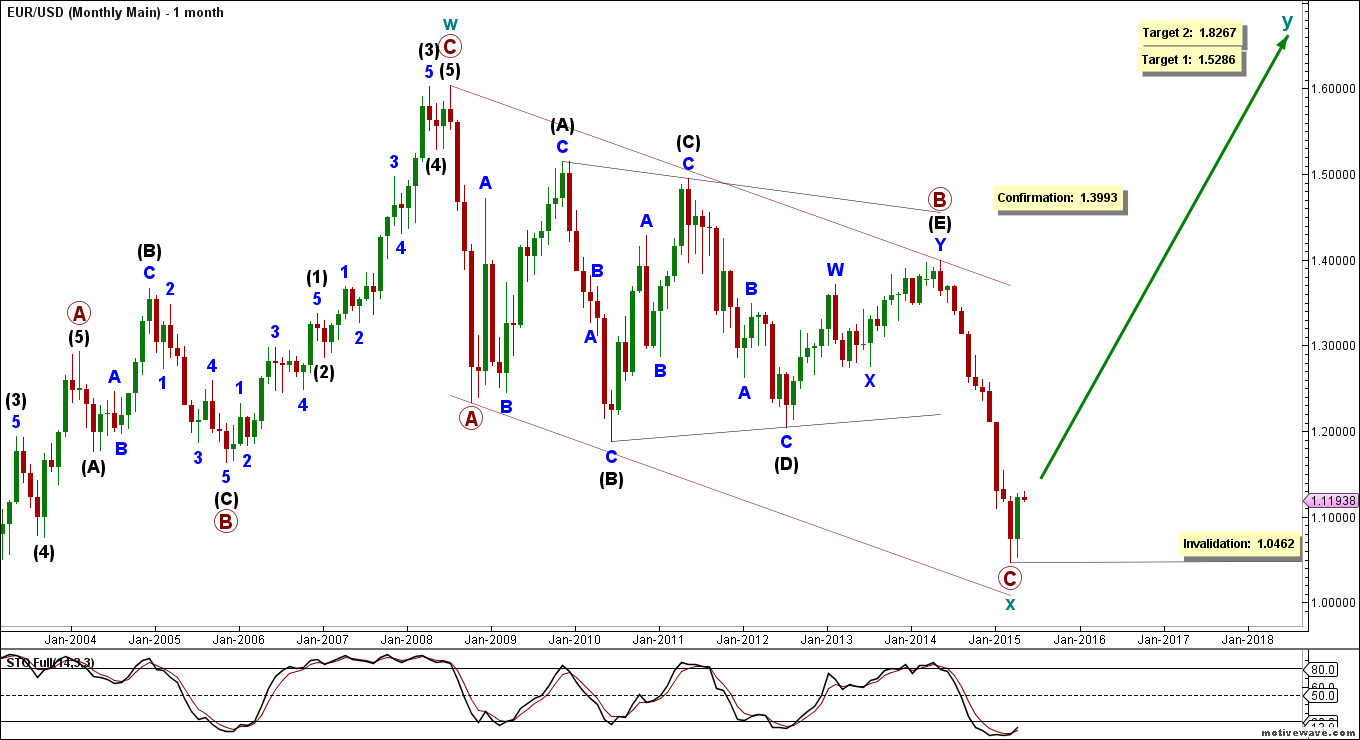 The bigger picture sees that the euro is probably forming a very large double combination labeled cycle waves w, x and y.
Cycle wave w formed a zigzag labeled primary waves A, B and C, ending on July 2008 at 1.6038.
Cycle wave x formed another zigzag labeled primary waves A, B and C.
Within it, primary wave B formed a running triangle labeled intermediate waves (A) through (E), each forming a zigzag labeled minor waves A, B and C, except for intermediate wave (E), which formed a double zigzag labeled minor waves W, X and Y, reaching just about 61.8% the length of intermediate wave (C).
Primary wave C came 180 pips short of reaching 100% the length of primary wave A.
This count expects that cycle wave x is complete and that the euro is now moving towards the upside in cycle wave y. This will be fully confirmed by movement above 1.3993.
The Stochastic indicator supports this count by showing, firstly, that momentum has been deeply in the oversold area for the past several months and, secondly, a bullish crossover has just taken place.
At 1.5286 cycle wave y would reach 61.8% the length of cycle wave w, then at 1.8267 it would reach 100% of its length.
This wave count is invalidated by movement below 1.0462, as this is the start of cycle wave y. If price moves below this point, it would mean that primary wave C of cycle wave x is still unfolding towards the downside, but the downward potential should still be quite limited.
If you'd like more detailed analysis of this new uptrend, along with shorter-term confirmation and target points, please review our daily counts.