Last week, we expected that the euro may be about to take back control, at least temporarily, and that price would start to moving sideways to upwards. However, the dollar was clearly determined to keep its gains, and price moved about 150 pips lower.
Still, the technical picture doesn't look too good for the dollar. Momentum is still showing signs of weakening, and the pattern from an Elliott Wave perspective is strongly arguing for a halt, perhaps even a full-scale trend reversal.
We're updating our count to reflect the most recent price action and to present tighter targets and invalidation points.
6-Hour Main Count
– Invalidation Point: 1.3504
– Confirmation Point: 1.2762
– Upwards Target : 1.2919 – 1.3069
– Wave number: Minor 4
– Wave structure: Corrective
– Wave pattern: Zigzag, Flat, Triangle, or Combination
Elliott Wave chart analysis for the EURUSD for 26th September, 2014. Please click on the charts below to enlarge.
Main 6-Hour Wave Count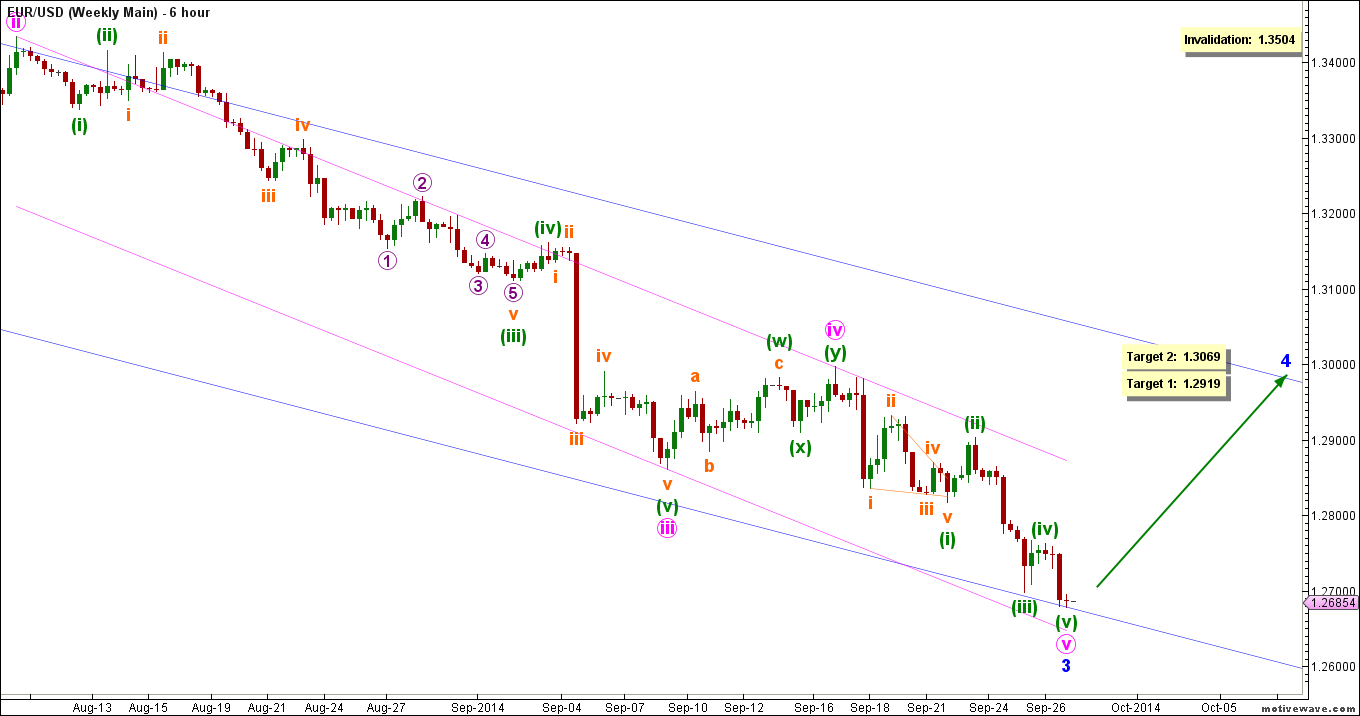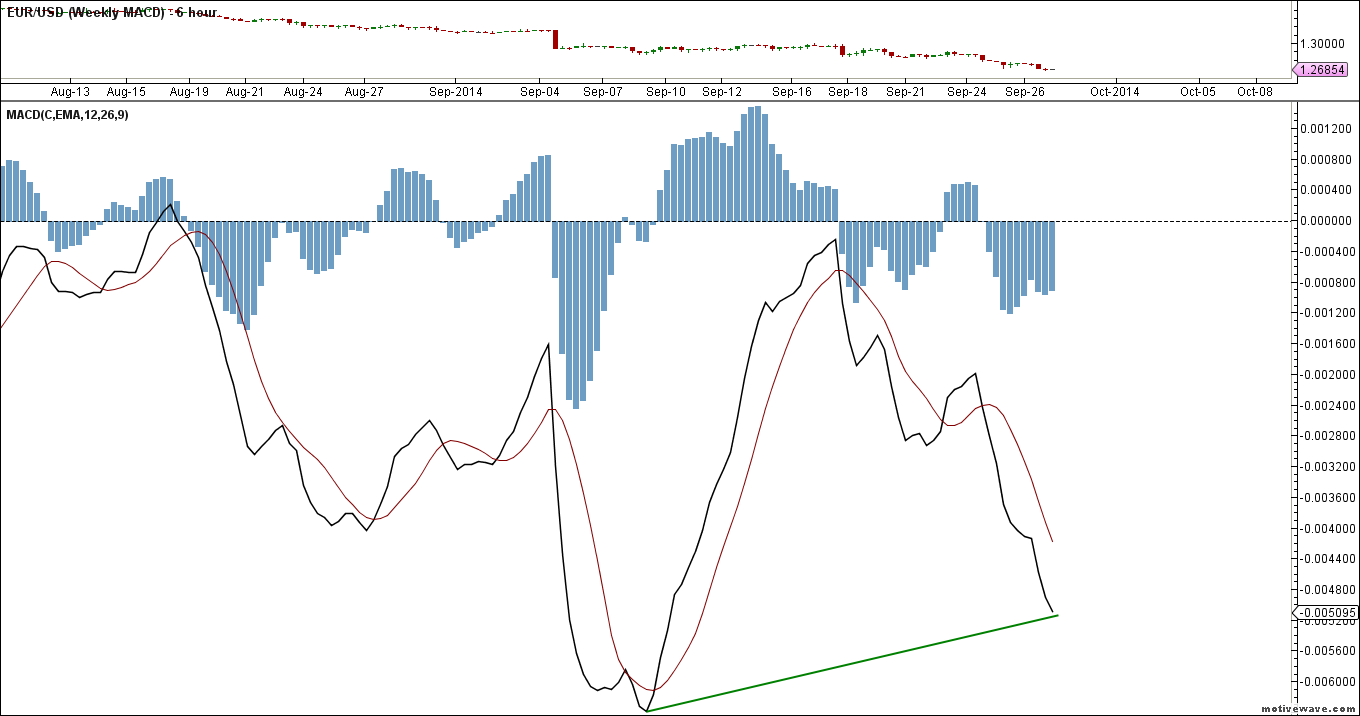 The bigger picture sees the euro moving downwards in intermediate wave (A), which is forming an impulse labeled minor waves 1 through 5.
Minor wave 3 formed an impulse labeled minute wave i through v, and has reached over 200% the length of minor wave 1.
Within it, minute wave iii formed an impulse labeled minuette waves (i) through (v), reaching just about 161.8% the length of minute wave i.
Within it, both minuette waves (iii) and (v) unfolded as impulses labeled subminuette waves i through v.
Minute wave iv formed a double zigzag labeled minuette waves (w), (x) and (y), retracing exactly 23.6% of minute wave iii.
Then minute wave v unfolded as an impulse labeled minuette waves (i) through (v), exceeded 61.8% the length of minute wave i, and has come very close to reaching 100% of its length.
This count expects that minute wave v — and thereby minor wave 3 — is either complete or very near completion, and that the euro is about to start moving towards the upside in minor wave 4.
The MACD indicator supports this count by showing a clear bullish divergence between the ends of minute waves v and iii, which is the typical momentum signature at the end of 5-wave impulses.
In terms of candlestick analysis, no clear pattern appears at this point, although several Dojis are forming at the bottom of minor wave 3, which is typically a sign of indecision and possible reversal.
In addition, price has just come very close to reaching the lower trend line of the channel drawn around minute waves i through v.
At 1.2919 minor wave 4 would retrace 23.6% of minor wave 3, then at 1.3069 it would retrace 38.2% of its length.
This wave count is invalidated by movement above 1.3504 as minor wave 4 within this impulse may not enter the price territory of minor wave 1.
No invalidation point for this count can be placed on the downside yet, as we have to wait for the new wave to start subdividing.