Last week we expected that a downtrend had begun to unfold, and we also mentioned that it was probably time for a short, counter-trend upwards correction.
During the week, the euro actually made a new low, exceeding the previous one by 33 pips. This, however, doesn't negate our current view, as we already know that a number of Elliott Wave corrective patterns can exceed the end of the previous wave, as we'll explain shortly.
The euro continues losing its ground against the U.S. dollar, and the technical picture is still turning increasingly bearish.
We're updating our counts to reflect the most recent price action and to present tighter targets and invalidation points.
6-Hour Main Count
– Invalidation Point: 1.3995
– Confirmation Point: –
– Upwards Target : 1.3781 – 1.3863
– Wave number: Minute ii
– Wave structure: Corrective
– Wave pattern: Expanded Flat
Elliott Wave chart analysis for the EURUSD for 26th May, 2014. Please click on the charts below to enlarge.
Main 6-Hour Wave Count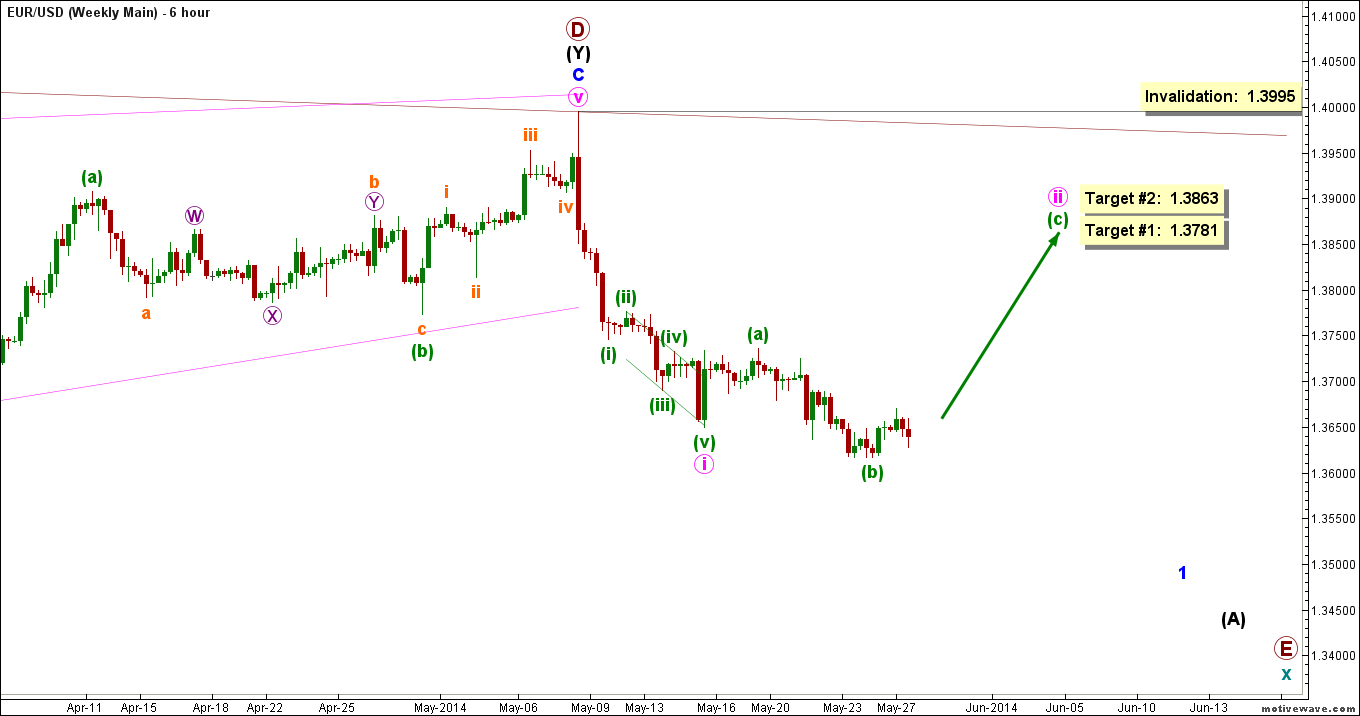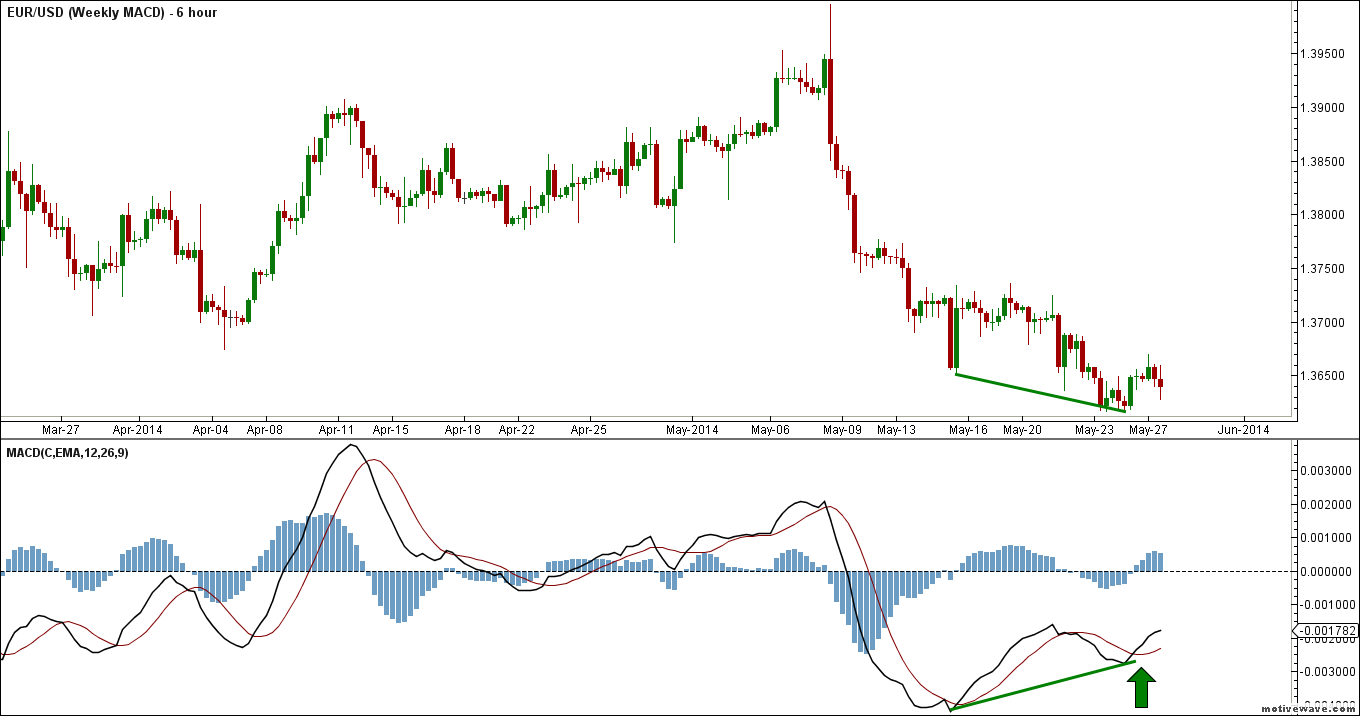 The bigger picture sees the euro moving sideways in cycle wave x, which is forming a contracting triangle labeled primary waves A through E.
Within it, primary waves A, B and C are complete.
Primary wave D unfolded as a double zigzag labeled intermediate waves (W), (X) and (Y), each subdividing into a zigzag labeled minor waves A, B and C.
Within intermediate wave (Y), minor waves A and B are complete.
Minor wave C formed an ending diagonal labeled minute waves i through v, reaching just above 61.8% the length of minor wave A.
Primary wave D as a whole has reached the typical 61.8% the length of primary wave B. Given all these indications, it's highly likely that primary wave D is now complete.
This count sees that the euro is moving towards the downside in minor wave 1, within intermediate wave (A) of primary wave E.
It's too early to place accurate labels on the subdivisions. But it's highly probable that minor wave 1 is unfolding as an impulse labeled minute waves i through v.
(Note that it's possible for minor wave 1 to be unfolding as a leading diagonal, but we'll need more data before this possibility can be confirmed.)
Within minor wave 1, minute wave i unfolded as an impulse labeled minuette waves (i) through (v), and it's most likely complete.
Minute wave ii definitely seems to be unfolding as an expanded flat labeled minuette waves (a), (b) and (c).
Minuette wave (a) formed a zigzag, then minuette wave (b) formed another zigzag and retraced exactly 138.2% of minuette wave (a), so it's most likely complete.
This count expects the euro to continue moving towards the upside in minuette wave (c) to complete minute wave ii.
The MACD indicator supports this count by showing a bullish crossover, as well as a clear bullish divergence.
In terms of candlestick analysis, no clear pattern appears at this point.
At 1.3781 minute wave ii would retrace 38.2% of minute wave i, then at 1.3863 it would retrace 61.8% of its length.
This wave count is invalidated by movement above 1.3995 as minute wave ii may not move beyond the start of minute wave i.