As expected by our alternate count, the euro moved towards the upside to reach both of our targets exactly to the pip.
And given the price action of last week, we're updating our counts to reflect the most recent price action and to present tighter targets and invalidation points.
6-Hour Main Count
– Invalidation Point: 1.3892 – 1.3294
– Confirmation Point: –
– Downwards Target : 1.3664 – 1.3523
– Wave number: Minuette (ii)
– Wave structure: Corrective
– Wave pattern: Zigzag
Elliott Wave chart analysis for the EURUSD for 27th December, 2013. Please click on the charts below to enlarge.
Main 6-Hour Wave Count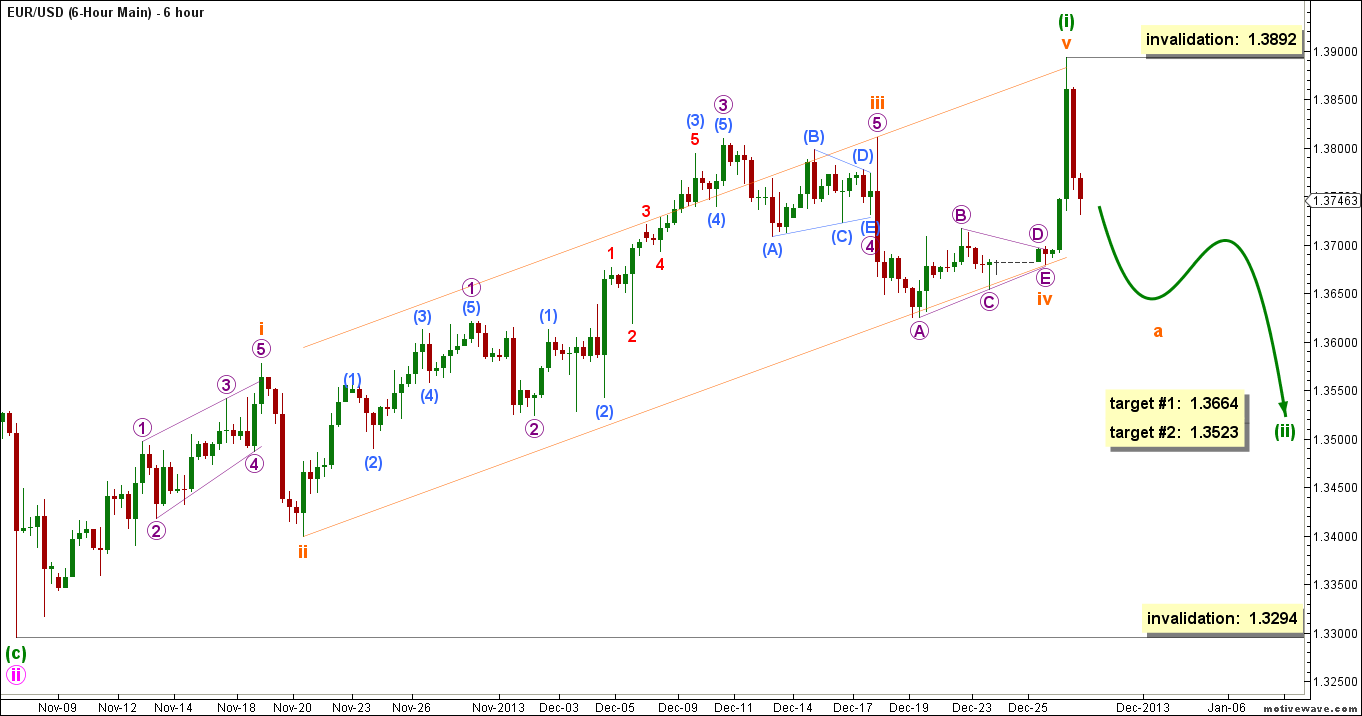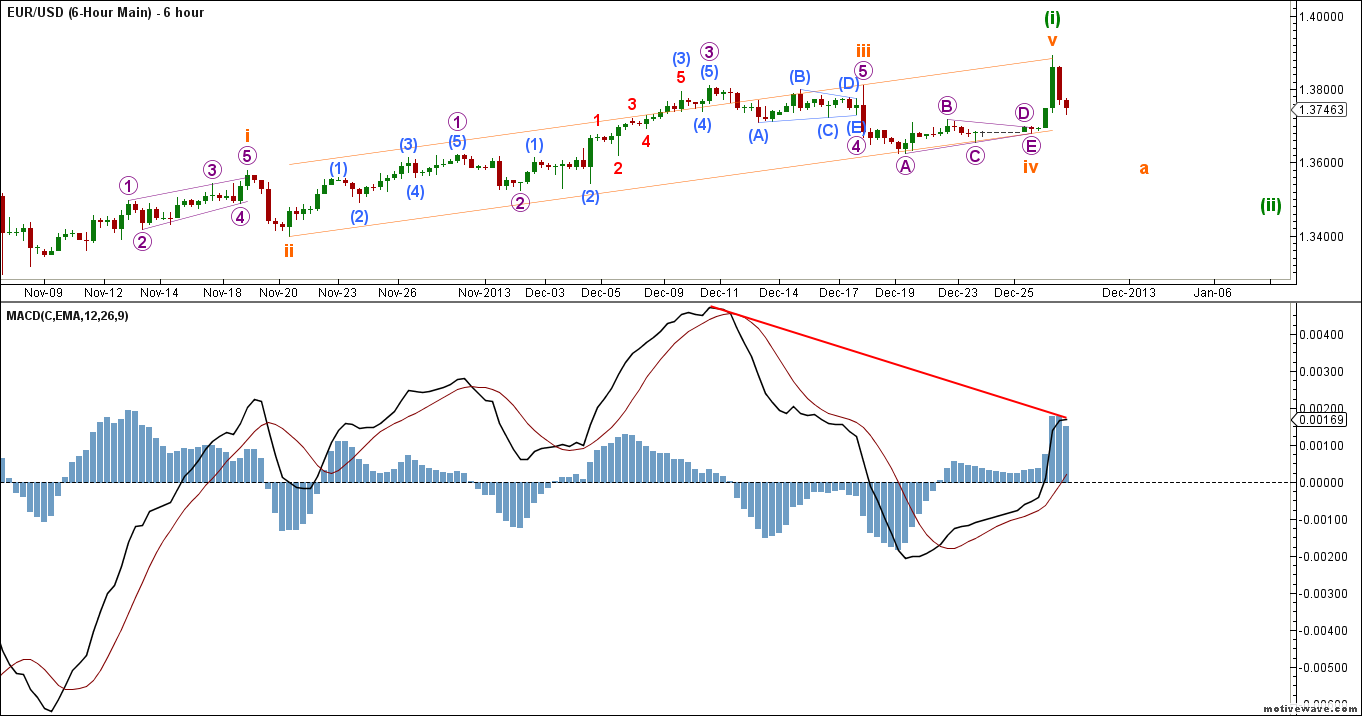 The bigger picture sees the euro moving upwards in minute wave iii, which is forming an extension.
Within it, minuette wave (i) unfolded as an impulse labeled subminuette waves i through v, which are well contained within their Elliott channel.
Subminuette wave i unfolded as a leading diagonal labeled micro waves 1 through 5.
Subminuette wave ii unfolded a zigzag.
Subminuette wave iii formed an extension labeled micro waves 1 through 5, within which micro wave 3 itself unfolded in a series of extensions.
Subminuette wave iv unfolded as a contracting triangle labeled micro waves A through E.
Once subminuette wave iv was complete, subminuette wave v moved in the typical manner expected from a post-triangle thrust. It shot up to reach and exceed the origin of the triangle, before immediately reversing and retracing over 3/4 of its advance, as part of the retracement in minuette wave (ii).
This count expects that minuette wave (ii) is now unfolding towards the downside, most likely as a zigzag labeled subminuette waves a, b and c. This will be initially confirmed by a break below the lower trend line of the channel drawn around the subdivisions of minuette wave (i).
The MACD indicator strongly augments this count by showing very strong bearish divergences. While price has made higher and higher tops, momentum is consistently decreasing, forming lower highs.
In terms of candlestick patterns, the most recent bars show a bearish "Marubozo" pattern, which is a very strong bearish signal that further augments this count.
At 1.3664 minuette wave (ii) would retrace 38.2% of minuette wave (i), then at 1.3523 it would retrace 61.8% of its length.
This wave count is invalidated by movement below 1.3294 as minuette wave (ii) may not move beyond the start of minuette wave (i). It's also invalidated by movement above 1.3892 as within a zigzag a B-wave may not move beyond the start of the A-wave.