As expected last week the euro moved towards the upside and has reached our first target and exceeded it by only 5 pips. And while this correction may still have further upwards momentum left, it's likely nearing a point of exhaustion and we expect it to form a top in the near future.
We're updating our count to reflect the most recent price action and to present tighter targets and invalidation points.
6-Hour Main Count
– Invalidation Point: 1.38335
– Confirmation Point: 1.3295
– Upwards Target : 1.3293 – 1.3166
– Wave number: Minuette (c)
– Wave structure: Motive
– Wave pattern: Impulse or Ending Diagonal
Elliott Wave chart analysis for the EURUSD for 15th November, 2013. Please click on the charts below to enlarge.
Main Weekly Wave Count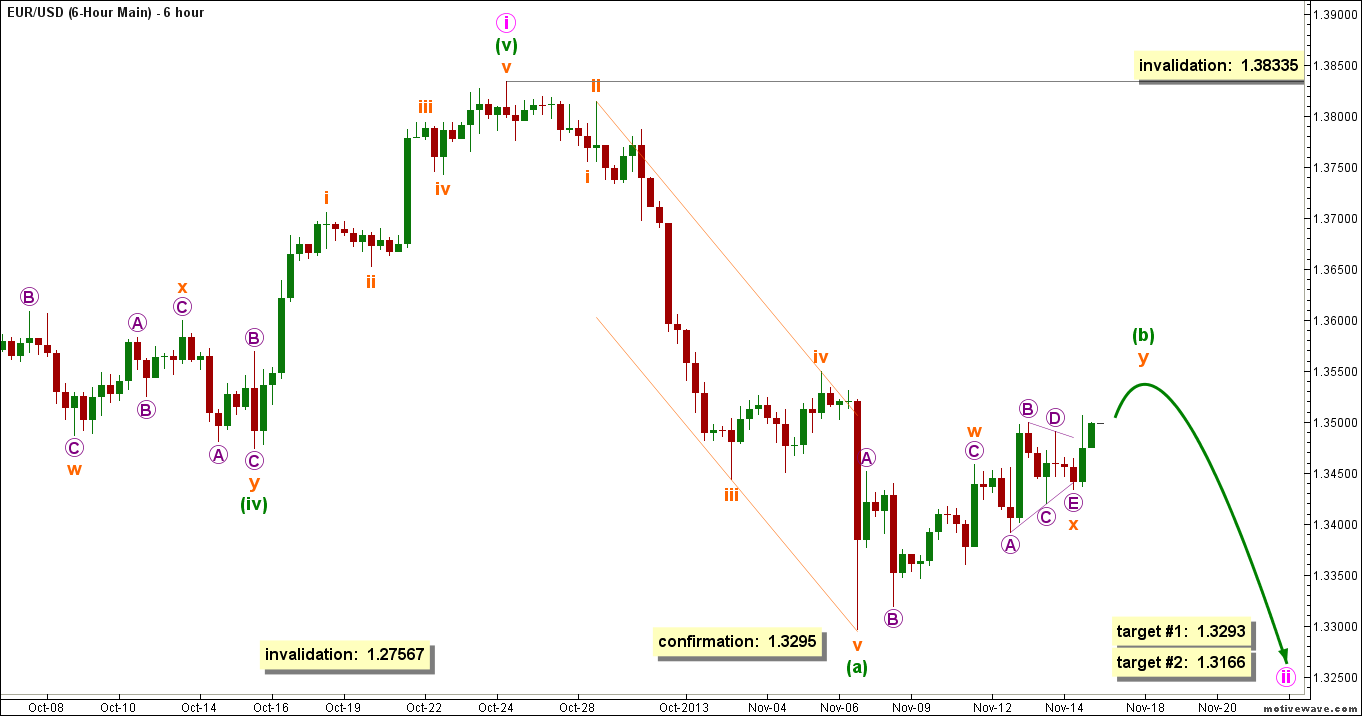 The bigger picture sees the euro within primary wave B to the upside, and within that in intermediate wave (C) to the upside, and within that in minor wave 3 to the upside.
Within minor wave 3, minute waves i unfolded as an impulse labeled minuette waves (i) through (v).
Minute wave ii is most likely unfolding as a zigzag labeled minuette waves (a), (b) and (c).
Minuette wave (a) formed an impulse labeled subminuette waves i through v, which are well contained within their Elliott channel.
Minuette wave (b) is most likely unfolding as a double combination labeled subminuette waves w, x and y, where subminuette wave w formed a zigzag labeled micro waves A, B and C and subminuette wave x formed a running triangle labeled micro waves A through E.
This count expects that subminuette wave y is near completion and that the euro is soon about to start moving towards the downside in minuette wave (c) to complete minute wave ii. This will be confirmed by movement below 1.3295.
At 1.3293 minute wave ii would retrace 50% of minute wave i, and at 1.3166 it would retrace 61.8% of its length.
This wave count is invalidated by movement below 1.27567 as minute wave ii may not move beyond the start of minute wave i. It's also invalidated by movement above 1.38335 as within the zigzag of minute wave ii minuette wave (b) may not move beyond the start of minuette wave (a).